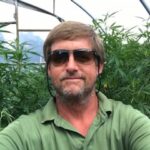 At our farm in Winston-Salem, N.C., we grow, harvest, process, and manufacture every Southern Soother product. Frank Sink is a life-long horticulturist with over 30 years of experience. He owns and operates one of Winston-Salem's most respected nurseries – Frank's Perennial Border, Inc.
Frank brought his love of plants and years of scientific understanding to the world of hemp growing and processing to create the Southern Soother line of products. He spent over four years perfecting the growing, processing, and formulating every Southern Soother hemp-derived product.
Hundreds of different hemp varieties, each with its own genetic makeup, are used throughout the industry. Frank has found a unique variety that provides a valuable combination of cannabinoids and terpenes. Along with his proprietary extraction processes, he creates clean, highly effective products.
One important thing to note is that people and pets each can have differing results from hemp-derived products. For example, some may benefit from smaller doses, while others may require more to achieve their desired effect.